My Indian Money  x EJ Countess Katebo (Raise A Runner)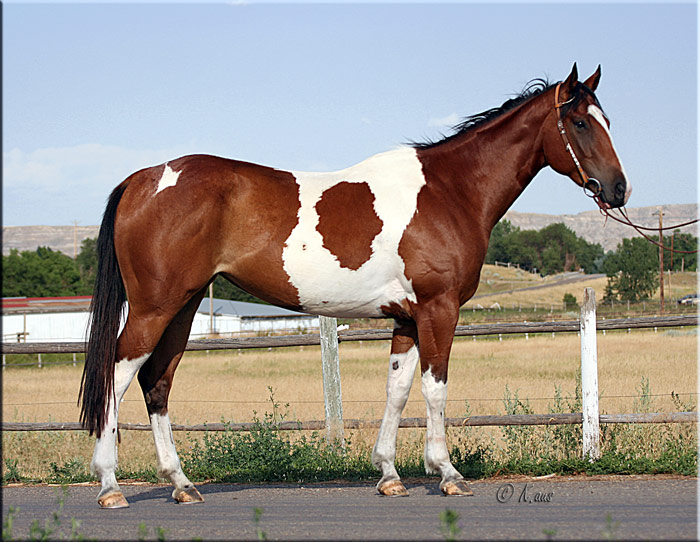 We are very excited to add "Money" to our program in 2016.     She has been a solid barrel and pole horse for a while and is taking a break to raise a nice foal or two... 
Money is sired by
My Indian Money
,  a AA son of Indians Image and out of a mare named Dialbon who was an AAA+runner and produced the same.   Money's dam  EJ Countess Katebo  is sired by Raise A Runner who is a World Champion Running Horse.
We feel that Go Money Go will produce excellent track or barrel prospects within our program.   We cannot wait to see what the future holds for this lovely mare.  
---
ROM race, Stakes placed - 3rd New Mexico Paint Racing Association Futurity $4,496 race earnings

SI-96, World Champion Running Paint Horse.

Leading Paint Horse Sire of barrel and race earners.

SI 95 17-10-5-2 $13,450.55

World Champion Running Paint Horse and Champion Running Three-Year-Old. He is the sire of 8 World Champions, including Sacred Indian and Indians Image.

Dialbon was a AAA+ runner and winner herself. She went on to produce a remarkable string of barrel horses from a limited number of foals

12-5-3-0, $214,515. Sun Country Futurity(Richest ever, $273,532). Qualified and Ran in All 3 Legs of the Quarter Horse Triple Crown: Kansas, Rainbow, and All American Futurities.

ROM/Superior Race Horse 42-10-11-9 $40,694.42

World Champion Running Paint Horse-1987 Champion Running Three-Year-Old
Champion Running Three-Year-Old Colt

19-4-5-4, $81,222
Won:Tremont S. Sire of Performance and Race ROMs, AAATs, Supr. Race, Stakes Winners, and Racing World Champions. His offspring have won over $10.2 million, Sire of Special Effort QH, the only QH triple crown winner of the Kansas Futi., Rainbow Futi. and All American Futi. at Ruidoso Downs.

Daughter of Kid Meyers:
Orphaned as a foal, he went on to become AQHAs 1st Supreme Champion. Colic took his life at age 7 but 4 foal crops had 23 race ROMs incld: Mr. Kid Charge. 1971 Ch.Q.R. 2YO Colt, winner All Am. Fut.,Rainbow Fut. & Bright Eyes Handicap.Three Bars & Miss Meyers contribution to History. Inducted into the AQHA Hall of Fame