Jess Fearless 
Fredricksburg SI 109 x Western Memories SI 82 (Holland Ease SI 109) 
2007 Bay Tobiano Mare 
aka "Clare"
PHOTOS COMING SOON
Sire: Fredricksburg SI 109
Fredricksburg SI 109 by Mr Jess Perry out Fearless Freda (Dash for Cash)  Champion Aged Stallion and Multiple Graded Stakes Winner 22-7-7-5 $369,304;  Sire of 71 starters, 51 ROM, $1,606,406, including FIRST KLAS FRED SI 103 (champion, $516,152, Ruidoso Fut. [G1]), FEARLES FRED SI 108 (11 wins, $93,919, Mt Pleasant Fut. [G3]), FORTUNE SIX HUNDRED SI 103 (6 wins, $92,307, All Canadian Fut.), Kate Of Spades SI 99 ($71,524 [RG1]).  Unfortunately Fredricksburg's career as a sire was cut short in June of 2006 when JEH Stallion Station had a barn fire and lost 6 stallions.  His only foal crop was in 2007 and "Clare" is his only APHA progeny sired.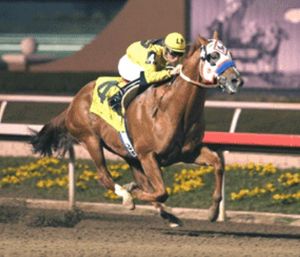 Son of champion MR JESS PERRY SI 113, sire of 643 ROM, 88 stakes winners, including ONE FA- MOUS EAGLE SI 101 (champion 3-year-old colt, $1,387,453, Los Alamitos Fut. [G1]), NOCONI SI 102 (champion, $816,618 [G1]), JESSLOUISIANABLUESI109(champion).  Paternal Granddam: Fearless Freda SI 113 AQHA DAM OF DISTINCTION 6 wins to 4 $262,121, Texas Classic Derby, QHBC Champ, Retama Derby, 2nd Vessels Maturity, and 3rd in All American Derby.

Dam: Western Memories SI 82 - APHA race winner and point earner by Holland Ease SI 109;  Memories was a multiple Graded Stakes Producer with progeny earnings in excess of $120k including – Fly CB Fly SI 91 $43,367, Fly Shari Fly SI 88 $53,381, and Jess S NDN Princess SI 91 $15,846
Holland Ease won six races, including the Golden State Derby (G1), while earning $361,227. In the U.S., he has sired earners of more than $12.2 million including leading living sire Corona Cartel SI 97 ($557,142), champion Holland Pass SI 106 ($178,855) and Grade 1 winners Planet Holland SI 127 ($798,885), Winners Version SI 103 ($399,057), Honor Ease SI 109 ($368,507), Dutch Schultz SI 99 ($456,668); Holland Ease is also a leading broodmare sire of 21 stakes winners that include Eyesa Jumpn SI 108 ($460,270), Feature Honor SI 106 ($161,981), Mr La Bubba SI 106 ($139,782)
Dash For Cash was an American Quarter Horse racehorse and an influential sire in the Quarter Horse breed. He won $507,688 during his career. He was elected Racing World Champion in 1976 and 1977. His victory races are the Champion of Champions, Sun Country Futurity, Los Alamitos Invitational Champ, Los Alamitos Derby, Vessels Maturity, Lubbock Downs Futurity.

SI 104 14-13-0-1 $1,219,949.00

AQHA Hall of Fame 2008 Won: All American Futurity, Rainbow Futurity, Kansas Futurity (AQHA Triple Crown Winner) World Champion Race Horse Champion 2 yr-old Champion 2 yr-old colt At 3: Won Kansas Derby; 3rd-All American Derby. Champion 3 yr-old colt

SI 100 38-27-7-2 $445,723.00

AQHA Race SI-100, AAAT, SW, Champion ROM Race Superior Race AQHA Hall of Fame 1969 World Champion Quarter Race Horse 1969 Champion Quarter Race Stallion 1969 Champion Quarter Race 2YO Colt 1970 Champion Quarter Race Horse 1970 Champion Quarter Race 3YO Colt

SI-100/AAAT/ROM (SW)31-22-4-2, $200,625 1962 AQHA Champion Quarter Running Two Year Old Colt 1962 AQHA Champion Quarter Running Horse 1963 AQHA World Champion Quarter Running Horse AQHA Hall of Fame Inductee

AAA, 76-24-18-10, Earnings: $28,311. Won: 1959 Bright Eyes Stakes, Buttons and Bows Stakes, 1958 CL Maddons Bright Eyes Handicap.

2nd All-Time Leading Dam of APHA money earners

World Champion Producer. ROM Race Offspring: Easy Jet Too (1981) by Easy Jet; Western Music; Cherokee Indian, Easy Winner by Easy Jet; Easy Rose; Jet Music; Easy Country Music

SI-100 30-16-7-4 $133,641.00

AQHA Champion Winner 1960 All American Fut. 1960 Ch.Q.R.2YO Colt 1961 Ch.Q.R.3YO Colt A Leading Sire & Maternal Grandsire RACE ROM