Dash Ta Magnolia

Dash Ta Fame si 113 x Magnolia Jewel 
(1D daughter of Magnolia Bar Jet)

2024 Breeding Fee: $1250
(Early Bird Discount: $250 discount to first 5 who book and prepay)
$400 Shipping/Collection fee
$500 farm/chute/booking fee (included in $1250 for year 1)
$350 farm/chute/booking fee required for donated/auction bookings

Live Color Foal Guarantee    
Discounts & Considerations Available
 
Future Fortunes of America,
Triple Crown 100, Legends of the South,
Cowboy State, Glacier Chaser Classic, 
VGBRA, Speedhorse Futurity,
Colorado Classic, PBRIP and PSBA
 
At 2, Register of Merit (1991), 3 wins (Golden State Futurity-G1, ntr at Laurel Brown Racetrack, 300 yards in 0:15.260), once 2nd (Dash for Cash Futurity-G1), once 3rd in 5 starts; at 3, four wins (El Primero Del Ano Derby-G1, Vandy's Flash H.-G3), twice 3rd (QHBC Championship Classic-G1), finalist in Governor's Cup Derby [R]-G1 in 8 starts. Totals: 7 wins (3), once 2nd (1), 3 times 3rd (1) in 13 starts. Earned $290,812. Last raced in 1992.

QH SI 105 (1984). World Champion Racing American QH. In QH races, stakes winner, $857,256, Dash for Cash Futurity-G1, etc. Sire of 24 crops of racing age, 2065 foals, 1804 starters, 1561 ROM, 245 stakes winners, 36 champions, 1281 winners of 3698 races and earning $81,058,421 USA, including Ocean Runaway-QH SI 105 (champion 3 times, $1,642,498, Los Alamitos Million Futurity-G1, etc.), Corona Cash-QH SI 101 (champion 4 times, $1,542,880, All American Futurity-G1, etc.), Corona Kool-QH SI 104 (champion twice, $1,296,797, Los Alamitos Million Futurity-G1, etc.), Fdd Dynasty-QH SI 102 (champion twice, $1,173,001, Ed Burke Million Futurity-G1, etc.).

Dash For Cash was an American Quarter Horse racehorse and an influential sire in the Quarter Horse breed. He won $507,688 during his career. He was elected Racing World Champion in 1976 and 1977. His victory races are the Champion of Champions, Sun Country Futurity, Los Alamitos Invitational Champ, Los Alamitos Derby, Vessels Maturity, Lubbock Downs Futurity.

AQHA Race SI-102/AAAT/ROM (SW)13-12(4)-1-0, $444,721 Track Record Holder at Sun Downs for 300 yards at 15.44 seconds that stood for 18 years, almost became a rare Quarter horse Triple Crown winner (missed by a head).

Jewel is a 1D open/rodeo horse, money earner, and prize winner (including five 1D saddles!) We officially retired her in 2014 at the age of 18, sound, so that she can raise some babies and pass on her amazing talents!
Dash Ta Magnolia is one of two APHA tobiano stallions sired by the all-time leading sire of barrel horses, Dash Ta Fame.    Dash proved himself on the pattern running barrels with Beckie Yohe as a consistent 1D performer and earning top 20 year end 1D status in IBRA over multiple years. 
Dash is now retired from barrels and back in Texas to concentrate on his duties as a breeding sire.  Dash's career as a sire began in 2014 with first foal crop hitting the ground in 2015.  His very first foal, Dash Ta Oklahoma- aka Harley, won the Reserve World Championship in Novice Barrels in 2019 with Brianna Guarino.  Additionally, he is the sire of "On the Magnolia Red" aka Frankie who won a Reserve World Champion buckle at the 2022 APHA World show with rider Joanna Mongelluzzo.   In 2023, Frankie won his second Reserve WC and several top 10s with the Glemba family.  Last but not least, "Baby's FamousMilkshake" is a tobiano mare by Dash who has earned over $70k on barrels and was bred by Michelle Lummus. In 2022, Michelle handed Milkshake's reins over to Will Harrington, a youth rider who is consistently running in the 1D and continuing to excel with her in both open and youth wins.  Their earnings are steadily climbing and have exceeded $50k as of 2023.  We are excited to see what all they will continue to accomplish.
If you are looking for the total package – ATHLETICISM, SPEED, TURN, MIND, COLOR, AND PEDIGREE, then Dash Ta Magnolia is the sire for you!

SIRE:  DASH TA FAME si 113 (First Down Dash x Sudden Fame, by Tiny's Gay)
Dash Ta Fame is legendary in his own right as a performer and sire.   He earned over $290,000 in 13 starts.  1st place wins totaled 7, with 3 qualifying as stakes races(Golden State Futurity - G1, El Primero Del Ano Derby – G1, Vandy's Flash H – G3).  2nd place wins totaled 1, which was stakes race (Dash for Cash Futurity, - G1).  3rd place wins totaled 3, with 1 as stakes race (QHBC Championship Classic – G1).  He was also a Finalist in both the Governor's Cup Derby (G1) and the California Derby
Dash Ta Fame has sired numerous winners on the track with progeny lifetime earnings in excess of $18.7 million.  In the last 5 years alone, his barrel horse progeny have earned over $6.3 million in the arena.  He has been ranked as the top sire of barrel racing horses for over a decade now, with progeny earnings more than tripling even the closest ranking sires on the list.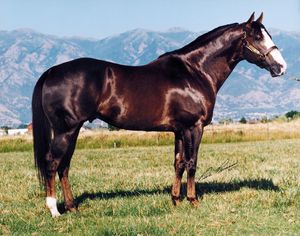 DAM:  MAGNOLIA JEWEL(Magnolia Bar Jet x Apollos Jewel, by The Jewel Maker)
Dash's dam, Magnolia Jewel, is a 1D open/rodeo horse, money earner, and ROM earner in barrel racing.  In addition to16 lifetime APHA points in barrel racing, she has won numerous jackpots and five 1D saddles.  Jewel has passed along her heart, try, speed, mind, and athleticism to Dash.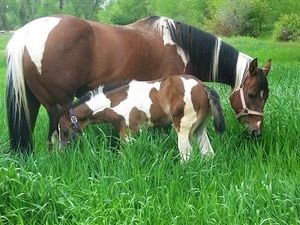 Jewel was sired by Magnolia Bar Jet, who was on the leading futurity sires list for several years.  Magnolia Bar Jet is the sire to numerous NFR, futurity and rodeo horses, including Brittany Pozzi's  Marvins Wonder aka "Potato Chip "(2003 PRCA Heelhorse of the year), Steele Magnolias aka "Cali" (excess of $18k in futurity earnings), JJ Bar Jet aka "Root Beer" (excess of $14k earnings futurity earnings), Jets Magnolia Shiner aka Dr Pepper, Magnolias Quick Jet aka "Popcorn" (Brittany's stallion), and JetsSkippin Stick aka "Pepsi"