Hung Jury
Bully Bullion x Purgatory Revenge (Marthas Six Moons)
2003 Bay Tobiano Mare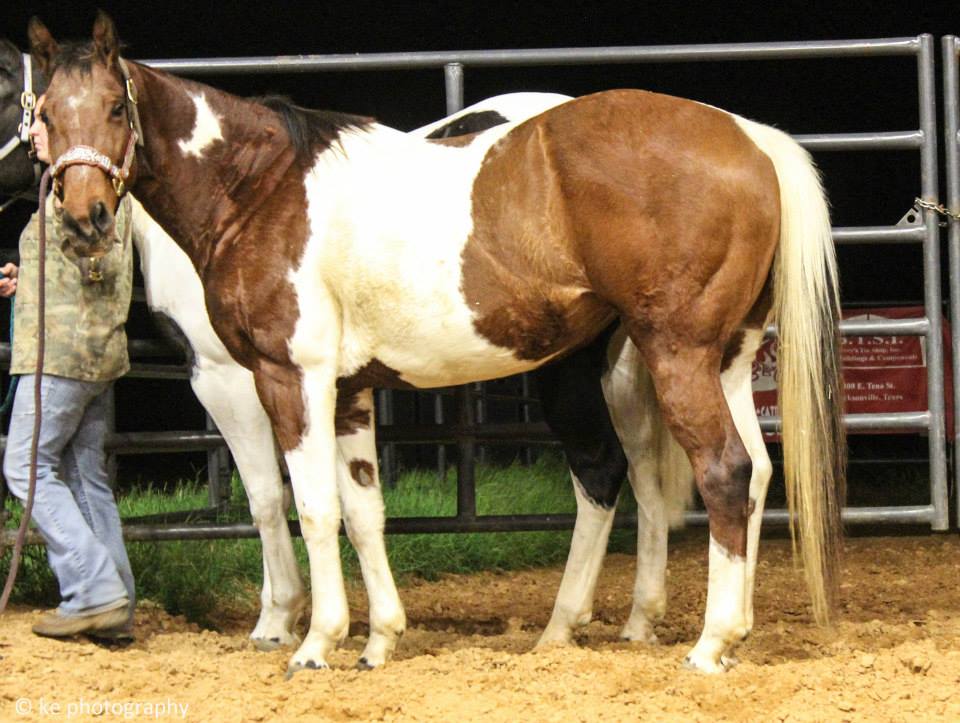 Sire: "Martini" is sired by the great
Bully Bullion
, probably the most notorious son of Special Effort. Bully Bullion himself has a 104 SI  and is an AQHA Racing Champion, a stakes winner with earnings of $255,384, and the sire of 14 crops of racing age, 1254 foals, 719 starters, 476 ROM, 38 stakes winners, 1 champion, 389 winners of 1122 races and earnings of $7,472,810.
Bully Bullion
is a champion sire of race horses and barrel horses. In 2004,
Bully Bullion
was the #3 LEading Barrel Derby Sire by Money Earned.
Bully Bullion
is a Leading Broodmare Sire. At the end of 2004, stats showed that
Bully Bullion
was the broodmare sire of 240 dams with 554 race age foals, 232 starters, 119 winners, 155 ROM, 40 blacktype horses, with earnings of $2,744,480.
Dam:
Purgatory Revenge
is a stakes producing own daughter of the great Marthas Six Moons. 
Hung Jury
is a very nice barrel horse herself and a maiden mare. She will continue to be run until we feel she has accomplished enough in her career to be bred to one of our stallions.  
SI 104 14-13-0-1 $1,219,949.00

AQHA Hall of Fame 2008 Won: All American Futurity, Rainbow Futurity, Kansas Futurity (AQHA Triple Crown Winner) World Champion Race Horse Champion 2 yr-old Champion 2 yr-old colt At 3: Won Kansas Derby; 3rd-All American Derby. Champion 3 yr-old colt

4-4-0-0, $45,955

Raise A Native is one of the most influential Thoroughbred sires of all time, like his sire Native Dancer.

Raise A Native sired Alydar, the only horse to finish second in all three Triple Crown Races (1978).

Raise A Native is the grandsire of Affirmed, the 11th and latest Triple Crown Winner in America.

Raise A Native sired Mr. Prospector, who sired 1 winner of each of the Triple Crown races, and is a desired bloodline in todays Thoroughbreds.

Raise A Natives sire Native Dancer sired Nijinsky, (AKA Nijinsky II in USA) one of the English Triple Crown winners, and a champion sire.

Raise A Natives 4xGreat Grandsire Phalaris is the 4xGreat Grandsire of Bold Ruler, the sire of the legendary 9th American Triple Crown Winner Secretariat.

Raise A Native is a relative of War Admiral, the 4th American Triple Crown Winner, with his dams damsire American Flag, sired by Man O War, the sire of War Admiral.

Raise A Natives damisires sire is Teddy, the great-grandsire of the 8th American Triple Crown Winner, Citation.

Record: 29-10-6-4, Earned $53,479. Won: Princess Stakes, Susan Stakes, Clipsetta Stakes, Imp Stakes, Coquette Handicap. 2nd: Blue Hen Stakes, Bewitch Stakes, Juvenile Stakes. 3rd: Ashland Stakes, Thelma Stakes. 1/2 sister to L`Amour Rullah ($65,714, 2nd Gotham S.), Nuit Blanch ($16,019, Land Of Lincoln S.) Dam of 16 foals,13 runners,7 winners,2 SWs,1 SP. Dam of Special Lineage, who sired Judys Lineage(1992 APHA Champion 3-Year-Old Colt, Champion 3-Year-Old) (USA) AQHA#T0152824, APHA#T0000526

AQHA Race SI-98/AAA/ROM (SP)51-8-7-4, $6,084 2nd: La Carrera de Amistad Stakes DAM OF: 8 starters, 7 ROM, 6 winners, including World Champion and Champion Stallion: Special Effort

Race Record: 12-4-3-1, Earnings: $3,149. Sire of Go Effortlessly, dam of World Champion Special Effort. Maternal half brother to St Bar. Foaled January 1, 1962 50% Foundation

19-4-1-2, $12,850 QH SI-85, AA Spotted Bull is in pedigrees of MANY of the greatest running horses and is a huge influence in the barrel pen, showing up in the pedigrees of Streakin Six, Bully Bullion, (Bully Bullion is named as such due to multiple crosses to Spotted Bull) and many others.

ROM/Superior Race Horse 42-10-11-9 $40,694.42

World Champion Running Paint Horse-1987 Champion Running Three-Year-Old
Champion Running Three-Year-Old Colt

19-4-5-4, $81,222
Won:Tremont S. Sire of Performance and Race ROMs, AAATs, Supr. Race, Stakes Winners, and Racing World Champions. His offspring have won over $10.2 million, Sire of Special Effort QH, the only QH triple crown winner of the Kansas Futi., Rainbow Futi. and All American Futi. at Ruidoso Downs.